RHT RMD Green Asia Initiatives Leadership (GAIL) Sustainability Awards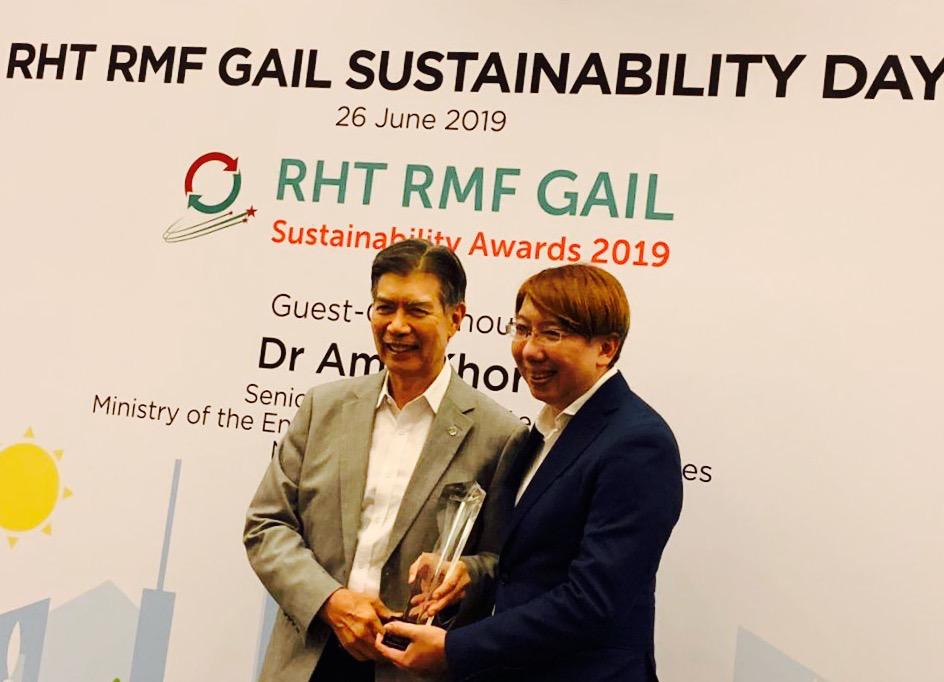 Caption: Victor Tay, CEO of Global Catalyst Advisory Receiving Awards from ER Edwin Khew, Chairman, Sustainable Energy Association of Singapore (SEAS)
26th June 2019, The Sentosa Golf Club
Deeply humbled and honored to receive the RHT RMF Green Asia Initiative Leadership (GAIL) Sustainability Awards in 2 categories:
1. GameChanger and
2. Innovation.
Global Catalyst Advisory was conceived with the philosophy - "Towards a Better World". We shortlist project that balances the triple bottom line of People, Planet, Profit.
Thanks to RHT and Senior Minister of State Amy Khor.


Awards Citation

Profile: Game Changer
Global Catalyst Advisory started with its founders upholding a strong belief and philosophies of balancing business objectives of profit while having strong stewardship to the society and accountability to the planet and people - a triple bottom line.

With a unique background from the Consultancy, Business Chamber, Economic Agencies and Global University which have a deep insights on macro-economics and pragmatic business issues, the firm balances its incisive business acumen with the sustainability focus, while championing the needs of vulnerable groups.

Having footprints across Singapore, Hong Kong, Shanghai and Tianjin, it provides a Game changing paradigm to how business should operate with a social mission in the 21st century.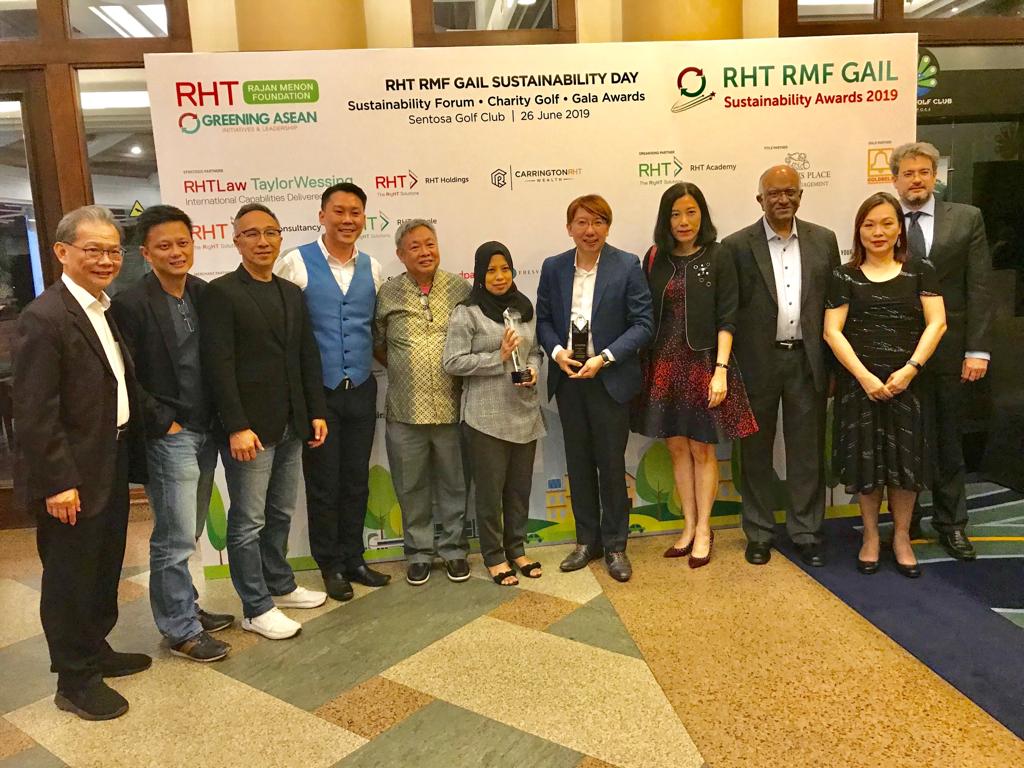 Caption: Celebratory photo with (from right) Trade Counselor - Embassy of Spain, Executive Director - Franchise Licensing Association of Singapore, CEO - ASEAN CSR, Director - IQVM, CEO - Global Catalyst, Executive Director - Clubheal, Director - PETC, President - Singapore Digital Chamber Of Commerce, Founder - EdAlliance and MyGym, Founder and Managing Director - 1 Group, Founder and Chairman - Jason Group Limited (at left)
Impromptu Acceptance Speech
SMS Dr Amy Khor
Founder of RHT, Rajan Menon
Managing Director of RHT, Tan Chong Huat
1. Our Background
I had my background in sustainability consulting across profit, planet and people in my early years:
- Profit - big 4 strategic consulting with KPMG, Coopers and Lybrand, PricewaterhouseCoopers
- Planet - industry development for environmental sector in SPRING and Ministry of Trade and Industry
- People - chairing a 1500 student strength at association for persons with Special needs
2. Our Philosophy
When we first conceived Global Catalyst, we had the Tagline - Towards a Better Tomorrow My investment banking partners queried, "how can profit, planet, people be mixed and balanced?"
That the panel of judges have given us this awards, it is a strong endorsement to our belief.
2.Global Issues for Transformation
At Global Catalyst Advisory, we ponder over pertinent societal issues:
Can we resolve food security issues?
Can we stop rural migration to urban cities and preserve farmers interests?
Can community be built on low-cost or waste-land?
Can charity be financially independent?
Can special needs have a dignified job?
Many tell us, it cannot be done!
a. Charity
What did we do? We conceive
I. Vertical green
II. Bakery
Iii. Cafe
By employing our special needs individuals, we give them skills, pay them wage, show to their prospective employers they are employable. And we provide technologies so our special needs have an edge against the foreign workers. Concurrently, we foster social integration amongst special needs at our cafe as we serve across value chain of vertical green, bakery and cafe from farm-to-plate.
Ultimately we demonstrate that charity can be sustainable and special needs can have a dignified job with financial independence.
b. Agriculture
Other global questions we ponder are
How do you build community in waste-land, can farmers ? Critique tells us, Don't even try.
What we did, we establish
- vertical farm
- racks
- farm
- poultry fertilizer
- water aquatic farm
a circular economy to low-cost but high-yield agriculture. We build accommodation for farmers, sustain their families, distribute their products to restaurants, and use blockchain to preserve their profits.
As the farmers thrive, the family standard of living is uplifted. The community grow on low cost rural land. And with the racks, they could have microfinancing, agriculture grows, the community propers further.
4. Our Motivation
Why do we pursue these goals?
It is under constraint that mankind maximize our potential and derive innovative solutions.
Why do we attempt to resolve these issues:
- so that our children and their future generations have a secured future
- so that the future generation looks back at our generation, recognizing we are the one who make a difference in reversing climate change.
Thank you. Allow me to dedicate these awards to all of you - you make a difference in our future